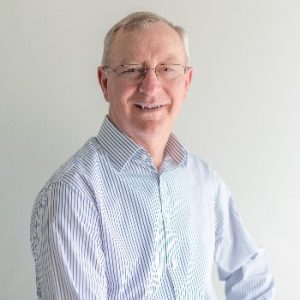 Originally trained as a primary teacher for Aboriginal children in the Northern Territory (NT) of Australia, I focussed on the hearing-impaired children that made up the majority of my schools (Papunya) population. Two years later, having trained in Melbourne as a Teacher of the Deaf I returned to a visiting and advisory capacity for the southern half of the NT. After several years of focussing on support to Aboriginal children with Otitis Media, I worked as the Acting Principal of the Alice Springs Special School, at that stage a small school for just 13 children.
It was during this period that the value of integrated education became more apparent to me and I transferred to a regular two teacher preschool in Alice Springs and over a two year period created the first integrated early intervention program in the NT.
Moving to Melbourne in 1982 order to support my parents, I became the principal of the Western Autistic Centre, another small school for 13 children from the west and northern regions of Melbourne. Things didn't go particularly well there with the staff, but many lessons about interactional patterns between staff and how relationships are markedly affected were certainly learned. As painful as it was, the experience was quite transformative.
I was then recruited as an Educational Adviser and later Team Leader to the Mental Retardation Division (MRD) of the Health Commission as part of the Southern Regional Team (at a time when regional teams were being established as institutions were being challenged and community services being strengthened. MRD funded community schools (Day Training Centres) as they were then known then (before the Education Department accepted responsibility) and my role involved working with families in the 0-18yr age group and with agencies in the Southern region (and later NE Region) of Melbourne.
It was in this time that I attended a PASS 3 (Program Analysis of Service Systems) workshop led by Dr Mike Steer. It completely electrified me. I fortunately had a wonderful manager that opened the door for me to do every Normalization/PASS and soon, SRV/PASSING workshop available, as a presenter and team leader. Mike was an Assistant Director in the department and eventually created a position of Normalization/SRV Training Consultant, which I then held for 4 years until that position was rescinded as part of the usual restructures that departments go through.
In 1991, having taught SRV & PASSING for 7 years, I travelled to the US to study under the guidance of Dr Wolf Wolfensberger. Completing 12 SRV events (mostly with Darcy Elks) and 2 PASSING events and an advanced PASSING and several short events, I returned home as a "Senior Trainer of SRV".
I have been self employed since 1991, working across Australia, New Zealand and Ireland and occasionally in the USA and Canada. I am part of the international SRV Association and movement and have invested significantly in preparing other people as trainers and practitioners of SRV with Study Groups, conducting official PASSING and training evaluations of many services, online consultations and discussions, articles within the SRV Journal and SRV Conference presentations and as one of the editors (along with Ronda Held, Ray Lemay and Susan Thomas) and author of two of its chapters: Aging and the Good Things of Life: The Application of Social Role Valorization to Supporting people as They Age.
I live in Melbourne with my wife Lynne and have 4 adult children and 9 grandchildren.